When you have a few trees of the same varierty in your collection, I find its is helpful to give them names that help me and my pals know what I am referring to when discussing the trees. The following images show some of my pines.............
This Pine was acquired in June 2010. It is known as the "Glenbrook Pine" because I got it from the Glenbrook Nursery, near Bristol. By July 2011, I was able to build up the foliage density..........I think it's looking prety good.
For more detals on the Glenbrook pine follow click here....
This Lodgepole pine below was acquired from Willowbog Bonsai in Sept 2009...........
It is to be known as the "Willowbog Pine"
To give a sense of scale the tree is shown beside a standard coffee mug.
See the tree Below in it's winter garb. No.................... That can't be right, its an evergreen!
Drat - it must be dead ! ----- and I've got no idea why !!!!!
The Pine below is to be known as the "McCurrach Pine". It was acquired from Willowbog Bonsai in Sept 2009, but had previously been owned and styled by Jim McCurrach.
This is how it looked at the time........................... and how it will look in a few years time
I repotted the tree in 2011, but in truth it didn't do well. However, by October 2013 the tree had recoved its health and was ready for styling. As the tree had been negelected for some time there was a lot of ong floppy growth. Some major work was required and a lot of copper wire. I also decided that the tree needed to be tilted back in the pot to show off the trunk. This image shows the tree after the restyling had been done; and a photo montage of the tree in a decent pot.
The pine below was acquired from Tony Southern of Hartlepool in April 2012. It had originally been styled by Len Gilbert. It will be know as the "Len Gilbert" Pine. By Oct 2012 it had filled out a bit!
By Sept 2014 I put some shape into the tree; the foliage had grown quite a bit, and the tree was healthy again and by Oct 2016 there was some shape to the foliage. This is one of those trees that I think looks better in real life than it does in the pictures !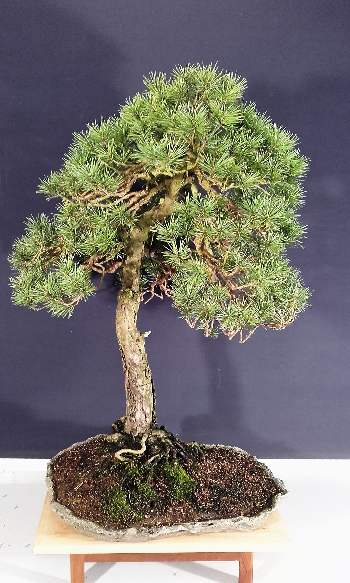 The Pine below was acquired at the Bukex exhibition in 2006. I have been working on it ever since by 2012 it was starting to get close to the image I had imagend. It will be know as the "Bukex Pine".
The scots pine shown below was acquired in 2008. To create the image the live tree has been screwed to a piece of carved deadwood. I will continue to develop the foliage over the next few years.
2008 2011